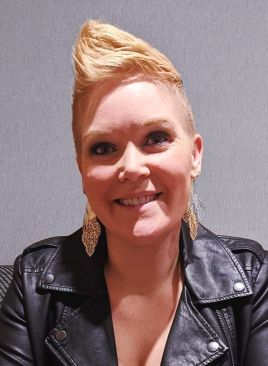 Hello Fighters, This month's featured coach wears many hats; Not only is she the founder/owner and the Lady Boss of the PEWC, she is also Coach Extraordinaire. Here is a little insight on this AMAZING human!
Meet Your Coach: Sarrisa Curry
PEWC: Tell me a little about yourself?
SC: I was born and raised in Madison WI. I have three brothers. I am the only girl and therefore I am the princess of the family. My name actually means "Princess of Laughter" which my father claims has been my gift to all who know me. I moved to Kansas City in 2006 with my then husband and 2 daughters. We had our third daughter in 2007. I was divorced in 2013 and remarried David In 2015. He and his 2 sons make us a family of 7. We now have 5 teenagers. Our home is bustling with activity.
In my career journey- I have always been fascinated with the human body. High school biology was my favorite class. I originally wanted to go into the social work arena- specifically working with at-risk kids. After a semester in a group home setting I realized it was not what I thought it was- and there was more hurt, abuse, suffering, and pain happening around me in those kids than I could ever have imagined.
I then pursued the medical arena. Nursing, surgical technician, anesthesia tech- all sounded interesting. I got a foot in the door as a level 1 housekeeper in the OR, ER, and C-Section suite of a level 1 trauma hospital in Madison. I was able to experience hospital life- and realize nurses are the donkeys of the medical field. And the wait to get into the program at the University was 5 years. Back to the drawing board. I pursued massage therapy and achieved my CMT in 2000. Over the course of the next 15 years I would absorb knowledge in supplement and nutrition, bodywork and massage techniques, multiple group fitness certifications, NASM CPT, and every level up to General Operational Management of a Fitness Center. All of which prepared me for The Parkinson's Exercise and Wellness Center.
PEWC: For fun, If you could be an animal, what animal and why?
SC: Skip- I have no idea....
PEWC: Fighter's if you have any suggestions of what animal you think Sarrisa can be likened to and why, let her know!
PEWC: What is your motto in life?
SC: I really believe every word in the Bible is true- I believe our lives good, bad, beautiful, ugly, easy or hard are all driven by a divine plan that ultimately leads to eternal life. So I live every day to honor God with my words and actions. I strive to show kindness, love, compassion, forgiveness, mercy, and humility to everyone around me- because that is what has been shown to me. I give God the praise for the blessing and the heartaches. I am thankful and grateful for everything in my life.
PEWC: Who would you say is your hero and why?
SC: My parents. I am a parent now. I know everyone jokes about "oh my gosh, I sound just like my mom/dad" as if it were a bad thing. I hear the wisdom of my mom and dad come out of me regularly. I am thankful for their patience, guidance and wisdom. They raised me to enjoy hard work, love learning, to be kind to the hurting and alone, to speak life into everyone around me. Being a parent, I realize how important these values are and how much I want for my children to have these values too. This day and age I feel like I need superpowers to overcome all the obstacles in the way of this.
PEWC: Why did you choose to specialize in working with the PD community?
SC: The choice was based out of a vacancy of accessibility and resources of something I've believed my entire adult life- exercise is good for you! The Parkinson's Community was made aware of this for their condition specifically- but had NO ONE in this region to help them. The choice found me.
PEWC: Can you tell me of a memorable moment during your training sessions with your client/clients here at the PEWC?
SC: Too many. Every day. Every class. Just one?!? I'm not sure that I can think of just one. Give me time for this one.